Tactical Duty Kilts
Tactical kilts are the hard-working men kilts for sturdy and heavy-duty work. These kilts for sale i.e, Camo Tactical Kilt are made in special hard cotton material but made according to the kilt standard. The tactical kilts' design is also different from other types of kilts such as canvas kilts, running kilts, firefighter kilts, etc. The hard cotton duty kilts are triple stitched while another type of utility kilts is mostly double stitched. These kilts have different design belt loops and front apron.
There are many ways to buy the best quality duty kilts, but the best way is to buy online from a quality standard kilt shop. Kiltsshop is our company, which has a wide range of duty kilts for customers. At our company, we don't only sell tactical kilts for men but also the women. Moreover, our hard cotton kilts are for every hard job or military job. We will discuss one of the duty kilts with you; you will surely love the features of this Kilt.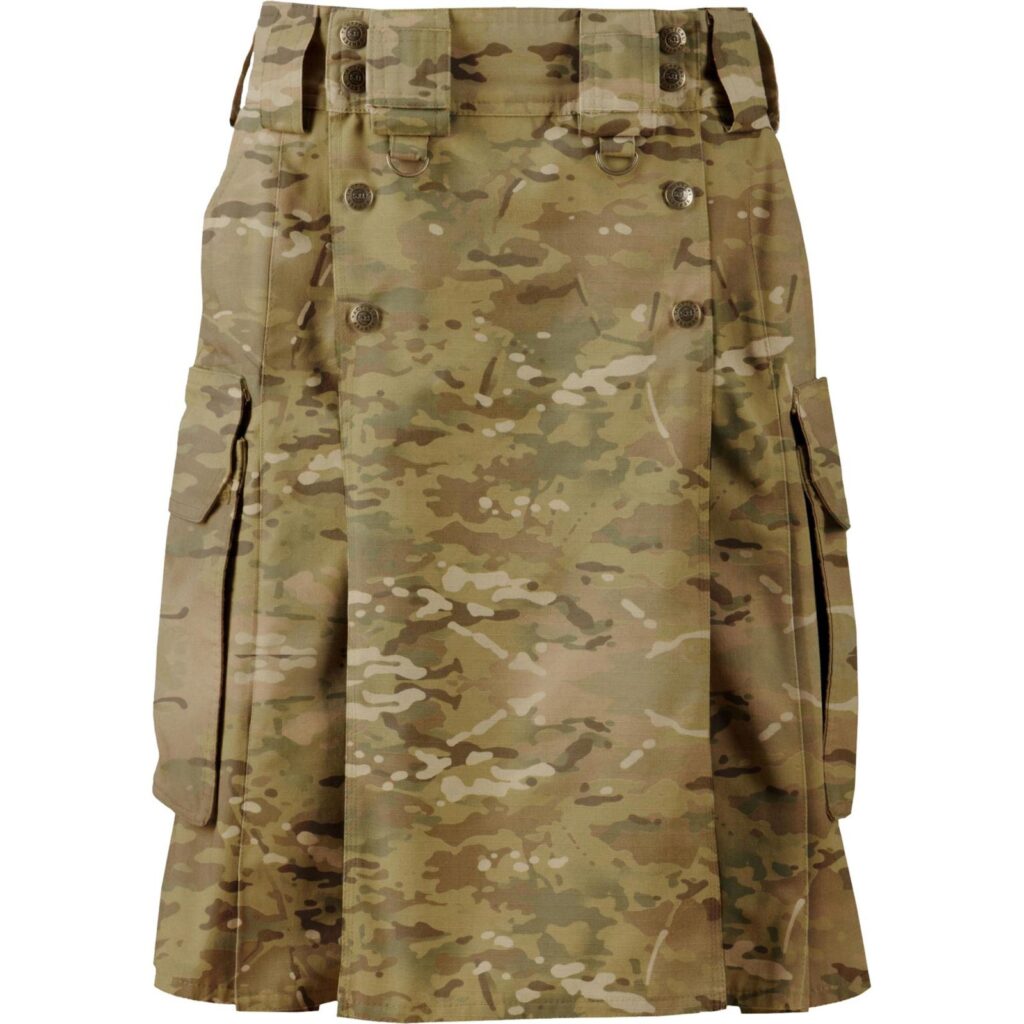 Camo Tactical Kilt
The Army Tactical Kilt is a beautiful Camo duty kilt that has the same tactical kilt features. Our other tactical kilts are made in cotton fabric, but this new tactical Kilt is made with a Camouflage color. Our makers have attached new design belt loops with this Camouflage Tactical Kilt for you. The original brass buttons we connected at the waistband and on the apron for you. Our company decorates the belt loops with stylish metallic d rings.
Adjustable Tactical Kilt Camo
The tactical Camouflage duty kilt also has big pockets for carrying guns, keys, mobiles, and other things. This Camouflage duty Kilt is specially designed for the army men who want a perfect dress on duty. However, for better fitting, you can use a belt with this Tactical Duty Kilt. 
Features of the Camo Tactical Utility Kilt
Have a look at the unique features of this Kilt
Material: Camouflage 

Customized Kilt

Finest Handmade Work

Brass Buttons

Unique Buttons

Storage pockets

All hardware's are rust-free

Triple Stitching

Metal D Rings

Wear formally and non formally
Material Quality
We used hard Camouflage material for making this tactical man kilt. These tactical duty kilts are not soft and lightweight because we make quality products according to the kilt standard.
Customized Kilt
This tactical duty kilt is the custom-made Kilt in which we can do every customized work according to the customer's instructions. All customized work in this Camouflage Tactical Duty Kilt is free, and we never demand extra charges.
New Condition
This Tactical Duty Kilt is available for sale in a new and fresh condition. We make new kilts according to the customer's instructions, so there is no chance of sending you cheap and used products.
Better Price
You may find the same tactical duty kilt in other stores, but the problem with the quality and price. Kiltsshop, not only controls the quality but also selling the goods at a discounted price.