Premium Printed Kilts
We have not only utility and hybrid type kilts for men i,e, Hybrid American Flag Kilt. Well, these are the modern kilts as we all know, but there are some kilts which are an advanced form of modern kilts, or we said the innovations in the contemporary kilts. We are going to discuss some of the advanced utility kilts we made recently. These are the flag kilts of different popular countries. We have flag kilts of USA, Canada, United Kingdom, Scotland, New Zealand, Germany, and Australia.
These are the premium or VIP kilts that are designed for the people who love their country. We can say that these are patriotic kilts that are not easy to make. These flag kilts require more time and effort by the maker. A utility kilt takes a week or two for manufacturing, but these flag kilts sometimes take more than a month. These are the printed kilts in which there is a unique printing unit involve to print these types of kilts.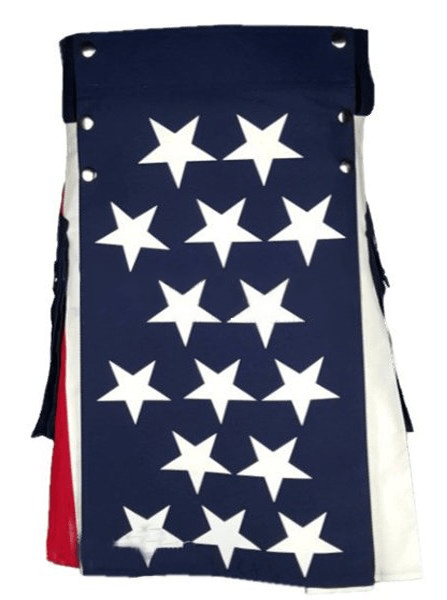 Hybrid American Flag Kilt
American flag kilts are the most popular kilts which we do for our customers. We have a beautiful and different design of American kilts available to our customers. In almost every American kilt, the front apron is beautified with the gorgeous national flag stars. We always make these American kilts with brass hardware.
Beautiful American Flag Hybrid Kilt
The product in this article is our newest collection of American kilt. This beautiful flag kilt has a decorative star embroidery on the front side, and this is a printed work we have done. As we know, red and white are the national USA flag color, so we have attached this color combination to the pleats of this Kilt.
Affordable American Flag Utility Hybrid Kilt
The silver buttons are made of brass, which not only increases the beautiful look of the Kilt but also increases the durability of the kilts. The storage pockets are also deep enough to hold small items and documents—overall a great USA flag kilt for you guys.
Features of the American Flag Utility Kilt
Have a look at the unique features of this Kilt
Material: Cotton

Available In all Sizes

Embroidery Work On The Front Side

Brass Hardware

Big Storage Pockets

National USA flag Color Pleats

Double Stitching
Material Quality
In every type of Kilt, quality is essential, but in this Kilt, we special care about the material and other hardware's. You will receive a new and quality USA flag kilt from us, so don't worry about the quality.
Customization
Customization is necessary for every Kilt, especially in this Kilt. Every USA lover has a dream to wear this flag kilt, but in many retail shops, the customers did not find the right waist size of the Kilt. This problem never happens in kiltsshop because we have every size available and we make customized kilts.
Better Price
This is the premium flag kilt unlike other utility or hybrid utility kilts. This flag kilt has beautiful stars on the apron and pockets, which is expensive work, so this Kilt is a little costly than other utility kilts. The price of this Kilt is still affordable and according to your budget.