Hybrid Kilts
The dual fabric cotton-tartan kilts for men come in unique designs and fabrics i.e, Hybrid Male Kilt. Most of the new design kilts are made in a hybrid structure because these stunning Celtic kilts involve more buttons, more studs as well as a front apron. Our kilt makers not only make simple double fabric kilts but also have modern fashion kilts that have a new and stylish front apron and unique pockets. These modern Scottish cultural kilts require more effort by the kilt maker than that of other simple kilts. Our kilt makers have much experience in this kilt business and they can make new design two toned utility kilts for our valued customers.
Hybrid Tartan Kilts
You may also see many tartan-cotton kilts in many retail kilts stores in your area. In these kilts, the main color is cotton while the secondary color is tartan, but there are also a few two-color kilts where the main color is tartan while cotton is the secondary color. We have unique designs of hybrid tartan kilts for our customers which have unique pockets and front apron. These are the luxuries kilts that not only enhance your personality but also make you proud.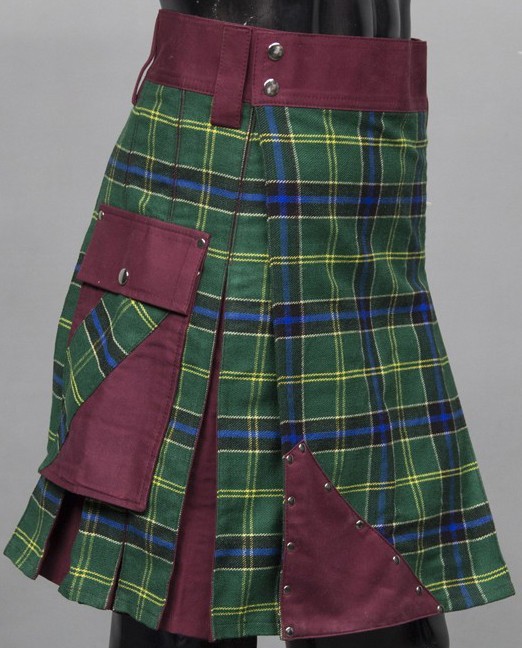 Hybrid Male Kilt
We are going to discuss the beautiful combination of tartan and cotton kilt in a kilt which is a Hybrid Men Kilt. In this beautiful kilt, the main color is tartan while cotton is the secondary color that is in some parts of the kilt.
Front Side Of The Hybrid Kilt Male
The front apron of the tartan precious men's kilt is very attractive; the waistband has four buttons for fastening the kilt. The unique piece of maroon cotton is stitched with brass metal studs. Because of this unique front look of this Modern Tartan dual Kilt, your personality increases.
Sides Of The Male Hybrid Kilt
There is a beautiful different design pocket attach to each side of the modern tartan kilt. Our makers use both tartan and cotton for making this beautiful kilt. We decorate each storage pocket with buttons and studs. There are also belt loops with this Hybrid dual fabric Kilt for holding the bigger size belts.
BackSide Of The Modern Kilt
The backside of this tartan hybrid cotton kilt has beautiful pleats. Our maker's deep pleat at the backside gives a stunning look. The stitching on either side of the kilt has been done by using the latest sewing machine.
Features of the Male Hybrid Modern Kilt
Have a look at the features of this Kilt
Cotton And Tartan
Customized Kilt
Brass Buttons
Studs
Beautiful Design
Material Quality
This is a premium tartan-cotton stuff kilt that not only has customers in the USA but also in other countries such as the UK, Canada, etc.
Better Price
This dual fabric kilt is a stylish kilt as you can see in the pictures. Many retail shops sell this product at much higher prices than expected, which is difficult for the buyer to buy that product. At our kilts shop, we are selling our every handmade kilt, such as this kilt at a reasonable price.