Pride kilts
The pride kilts for men are the kilts that have multi-colors e.g, Modern Rainbow Hybrid Kilt. These are the kilts that are soft, flexible, and best for the summer season. The pride kilts are also called gay kilts because these Highland bottoms are best for gay men. Therefore, our company makes a wide range of Gay men kilts in various designs. Some pride kilts are manufactured in cotton fabric, while a few of them on leather fabric. As the gay kilts have every color of the rainbow, we can say that these are the rainbow kilts.
You can wear these stylish rainbow kilts at different events and festivals such as weddings, Scottish games, and LGBT events. Stitching is the key factor in these gay kilts, so we used black, red, and other matching threads to stitch these Scottish kilts. Some kilts are stitched inside, but most of the Highland wears are hemmed on both sides of the kilt to increase durability. Moreover, our company is professional in making kilts and allows customers to include or exclude anything in the kilt as per the customer's choice.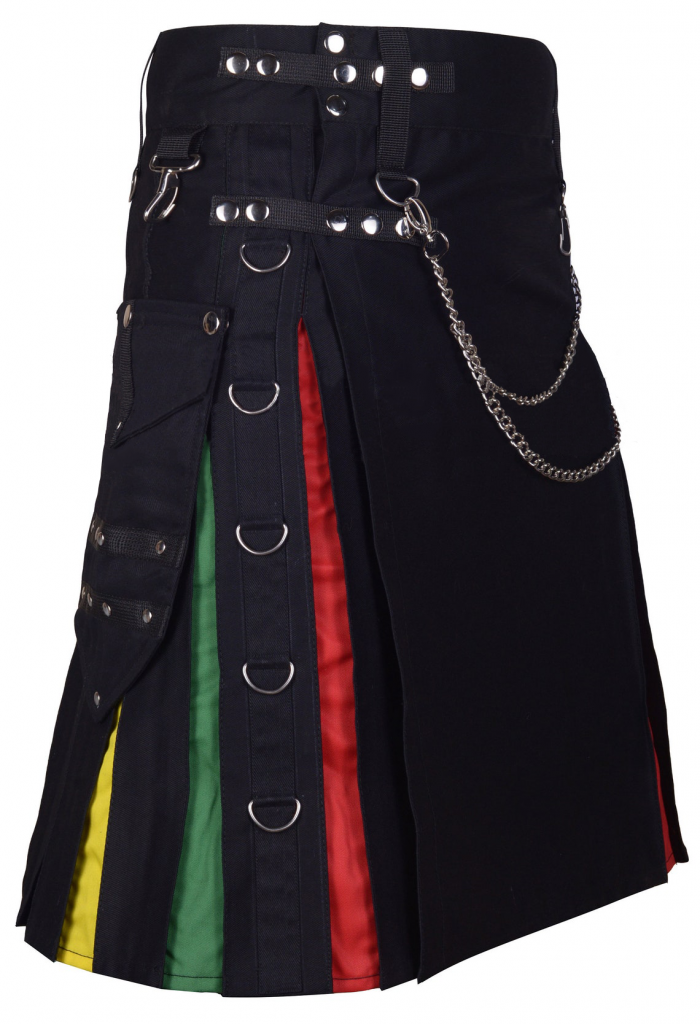 Furthermore, these are not standard kilt; we have added more metal hardware to make them different. These kilts' prices are higher in many retail kilt stores, but we always take care of our salaried person and sell our goods at affordable prices. Explore our wide range of luxurious rainbow kilts at our men's section and buy one for upcoming events.
Modern Rainbow Hybrid Kilt
A beautiful Hybrid Black Rainbow Kilt is available for you guys. This stylish pride kilt has too much metal hardware, which makes it awesome. The front apron is beautiful, as you can see in this Modern Rainbow Hybrid Kilt. Therefore, we decorate this kilt with six beautiful and best quality straps and silver metal O rings.
Hybrid Pride Kilt
Every black strap has a couple of silver buttons, which are for fastening the kilt and increasing the beautiful look of the kilt. This kilt also has vertical straps, hooks, and belt loops for you. The storage pockets added with this pride rainbow kilt are also different in shape but big enough to hold large goods and other things. Overall, a perfect custom-made rainbow kilt is available for you guys, so don't waste any time and buy now.
Features of the Modern Hybrid Rainbow Kilt
Have a look at the exciting features of this Kilt
Top Grade Cotton Material
We have every size
Our kilt makers can change the design
Antique buttons
Sewn pleats
Storage pockets
O rings
Beautiful Front Apron
Durable Stitching
Straps with buttons
Affordable Price
Wear formal and non-formal events
Supreme Quality Pride Rainbow Kilt
Our company uses the best grade cotton fabric for making this stylish, fashionable kilt.
Few Important Things
Manufacture with real cotton fabric
Durable stitching with the matching thread
Efficient pleating
Make products in a new condition every time
Hand Made
Our company has every hand-made tool and machine for making this Highlander kilt.
New Condition
This premium Gay kilt is available for sale in a new condition.